Mold Removal Experts in Connecticut
Keep your home safe and clean with comprehensive mold remediation solutions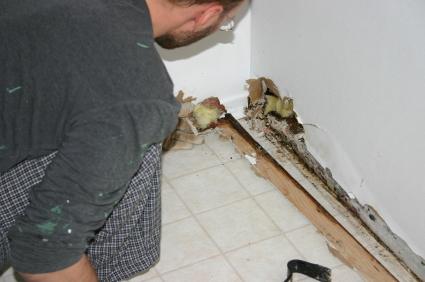 You need certified professionals for your mold removal needs in order to make sure not a spot is missed. Often visible mold is the least of your actual problems and is just the tip of the iceberg.
Mold infestations move extremely quickly. A mere spot of mold in a remote, damp, and humid section of your basement or attic can quickly double or triple in size continuously. It is also not hard for mold to find ideal conditions for growth in your home. All mold really needs is a damp, humid environment with organic materials like wood to feed on. Unfortunately, this describes many parts of most homes, especially basements and attics.
There is no need for panic though as Paul Davis Restoration of Central Connecticut can help take care of all your mold problems. We have years of experience providing our expertise to similar problems and know just how to identify the mold and provide you with a quick but effective solution. We provide comprehensive mold removal and remediation services to o[major cities], and throughout the surrounding area. Give us a call today at 1-860-633-7733 or contact us online to schedule your estimate.
The mold remediation facts you need to know
Our mold solutions
Mold inspection & testing
Attic mold removal
Basement mold removal
Bathroom mold removal
Black mold removal
Indoor humidity control
Mold grows quickly: Mold needs only moisture, temperatures above 40°F, and organic material to survive. Moisture is very common in places such as attics, basements, and crawl spaces, while the wood and drywall in your home offer plenty of organic material. Mold can grow in 24-48 hours, preferring areas with no sunlight, limited airflow, and little disruption.
Cleaning visible mold is not enough: Mold can grow in fiberglass insulation, on top of ceiling tiles, inside ducts, behind drywall panels, in wall cavities, and behind wallpaper. Even when it's visible, it's often difficult (even for an expert) to tell the difference between mold, soot, and dirt without testing. More importantly, the mold you see is likely a sign of a bigger problem you can't see.
Mold removal requires professional equipment and training: As, mold removal professionals, we have a variety of state-of-the-art equipment that we use to identify sources of moisture, dry out wall cavities, and safely remove mold that is growing in your home. Samples of the mold may be analyzed in a laboratory to identify potentially toxic strains, and special cleaning agents may be used to restore the property. Because of the risks involved in spreading mold and the need for special cleaners and equipment, we strongly recommend that you don't try to remove mold yourself using bleach or other household chemicals.
Mold impacts property value: Mold issues can dramatically lower the value of your home, and any house with significant mold problems will be difficult to sell. Additionally, mold can lead to serious structural damage to your home, which can be expensive and unsafe. Getting a mold inspection prior to selling your home or purchasing another allows you to be sure that you don't have any serious issues behind the wall and that the house is safe and healthy.
Paul Davis Restoration of Central Connecticut's mold removal process in Connecticut
It is our mission to make sure that your home stays safe and healthy. That's why we've designed our process in order to not just eliminate mold for the present, but also ensure protection against future mold invasions. We like to follow the following five-step process:
Examine and identify the Mold: Knowing your enemy is always half the battle and this is doubly true with mold. Our experts will examine your home to discover what kind of mold you have so we can suggest the most effective solution for you.
Search for any mold that is hiding: Visible mold is normally just the tip of the iceberg. After examining the visible mold to figure out what type of mold we're dealing with we'll look for the rest. This will involve removing drywall and insulation since mold loves to hide behind these types of objects.
Remove affected materials: Now that we've identified the type of mold and the full extent of the infestation, we're almost ready to start treating it. However, mold can spread quickly when disturbed and therefore we'll remove all the objects to which it might spread before beginning our treatment.
Begin mold treatment: Once materials are removed, we treat the entire area with chemicals to kill any remaining mold and prevent regrowth. Depending on the type and severity of the mold, there are different options available.
Restore your home: With the mold now gone you can breathe a sigh of relief. We'll take steps to prevent mold from regrowing in that area and then return everything back to normal by replacing the drywall, insulation, carpets, etc that we removed initially.
Call the experts at Paul Davis Restoration of Central Connecticut today to keep your home mold free!
Do you have a home currently suffering from a mold problem or are you concerned that your home could develop mold problems in the near future? Either way, the experts at Paul Davis Restoration of Central Connecticut can help make your house dry, clean, and safe. Our team of mold experts is always here to help. Give us a call today at 1-860-633-7733 or contact us online to schedule your estimate! We offer all our mold services in Hartford, New Britain, Manchester, Bristol, Southington, Coventry, Farmington, Berlin, Vernon Rockville, Newington and throughout the surrounding areas.
Looking for a price? Get a no cost, no obligation free estimate.